Antonio Calce, CEO of Girard-Perregaux: momentum is gathering for the Manufacture
Being both a brand and a Manufacture, Girard-Perregaux has such a rich history that it is necessary to choose between them. For its 225th anniversary, CEO Antonio Calce has focused on products. He reveals this year's strategy and new pieces.
The brand's history is so rich in treasures that if it were to work only with them, it would still have enough to cover the market's every segment and field. From the most intricate complications to the most striking and daring designs, Girard-Perregaux has over 80 patents and has always let its creativity flow freely. Hence, in the 1990s the brand was a pioneer in reinterpreting the Tourbillon with its iconic "Three Gold Bridges". Furthermore, in the early years of the quartz advent, it created a buzz with the Girard-Perregaux Casquette, a quartz watch with a red digital display that featured such outstanding aesthetics that it became legendary and has brought about 21st century's "new horology".
New era: saving clarity
Less than one and a half years after he took over from Jean Richard at the head of Girard-Perregaux in January 2015, the CEO from La Chaux-de-Fonds, Antonio Calce, feels at home at the Kering group. He admits that he favors long-term projects. For the time being, he has already made an impression at Girard-Perregaux in 2016 – and that's saying something for a manager at a time when new products take years to be developed. He assumed his new role with the determination, dynamism and creativity that the brand's historical legitimacy and glorious past require without, however, falling outside the scope of specific positioning.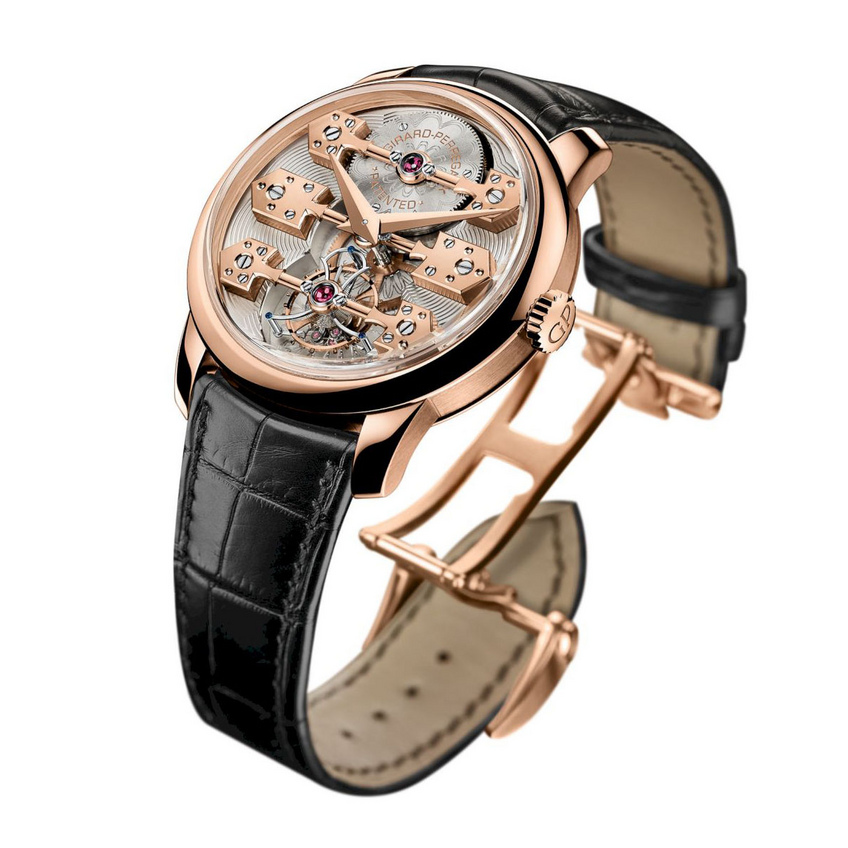 Girard-Perregaux La Esmeralda 2016
All in all, 97 references have been removed from the brand's catalogue and 33 new pieces have been added; the latter particularly for price segments which the brand had hitherto never covered. As a result, in 2016, when the brand is celebrating its 225th anniversary, there are altogether some 150 references with their respective ranges. They have all been smartly redesigned and repositioned.
Antonio Calce: Girard-Perregaux has both the essence and the profile of an athlete. Not everyone manages to succeed but that is clearly not Girard-Perregaux's case. Whilst the brand has always focused on unique and exceptional pieces, the products per se lacked readability. We have now defined the brand's focal points, recovered our long-term vision and started to create value around a powerful collection that is in sync with the brand's codes. Under the present circumstances, we come with a new remedy – targeting a new price segment with the steel versions that we have made of some of our major collections.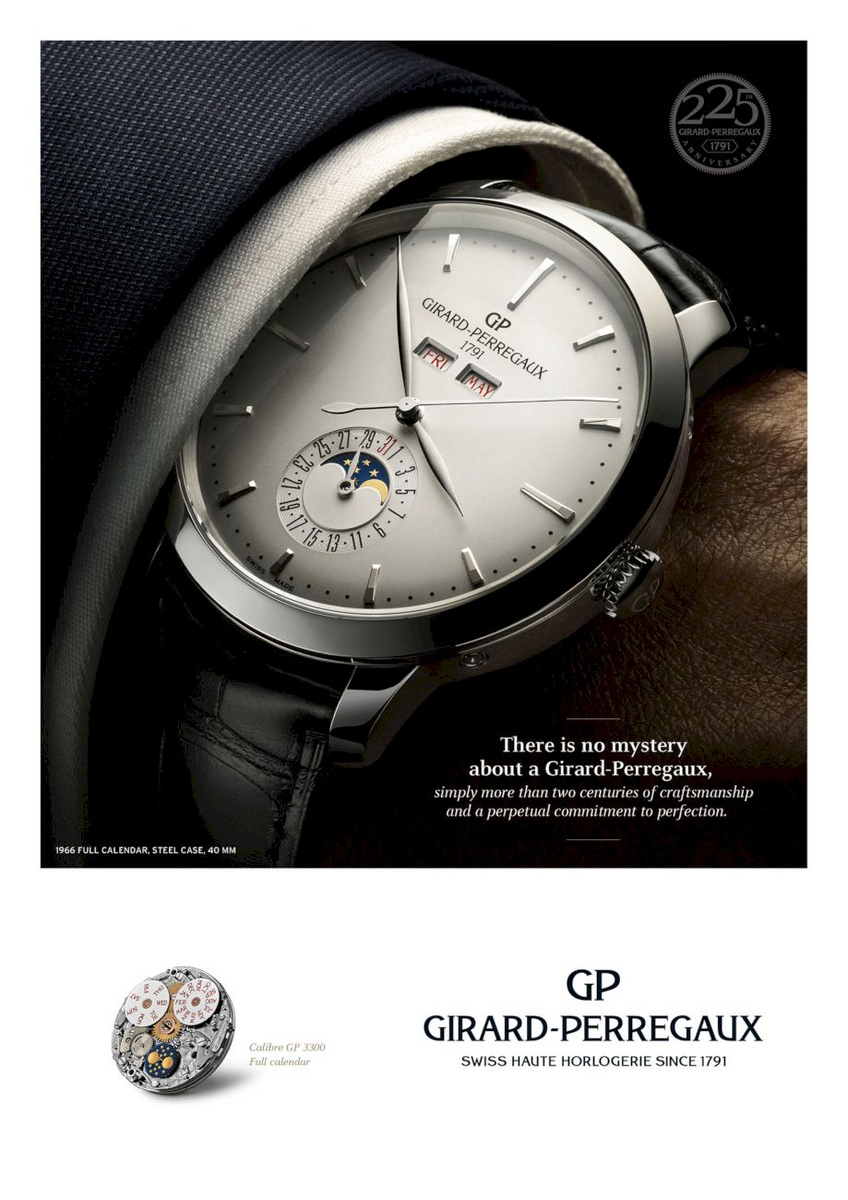 Girard-Perregaux 1966 Full Calendar Steel, 225th anniversary ad
Alexander Friedman: what are your priorities for the brand's 225th anniversary?
AC: I want to focus on the products because they are the stars! They are part of the brand and the first elements that you identify with. All other production stages are added value to the product.
AF: What are the principal focal points of your product-based strategy?
AC: Everything is based on five pillars. The first one – our heritage – is represented by the 1966 and 1945 collections. For the record, the 1966 collection is celebrating the Manufacture's 50 years of chronometric prowess in 2016. Our second pillar is Cat's Eye, the range specifically made for women, which we have structured.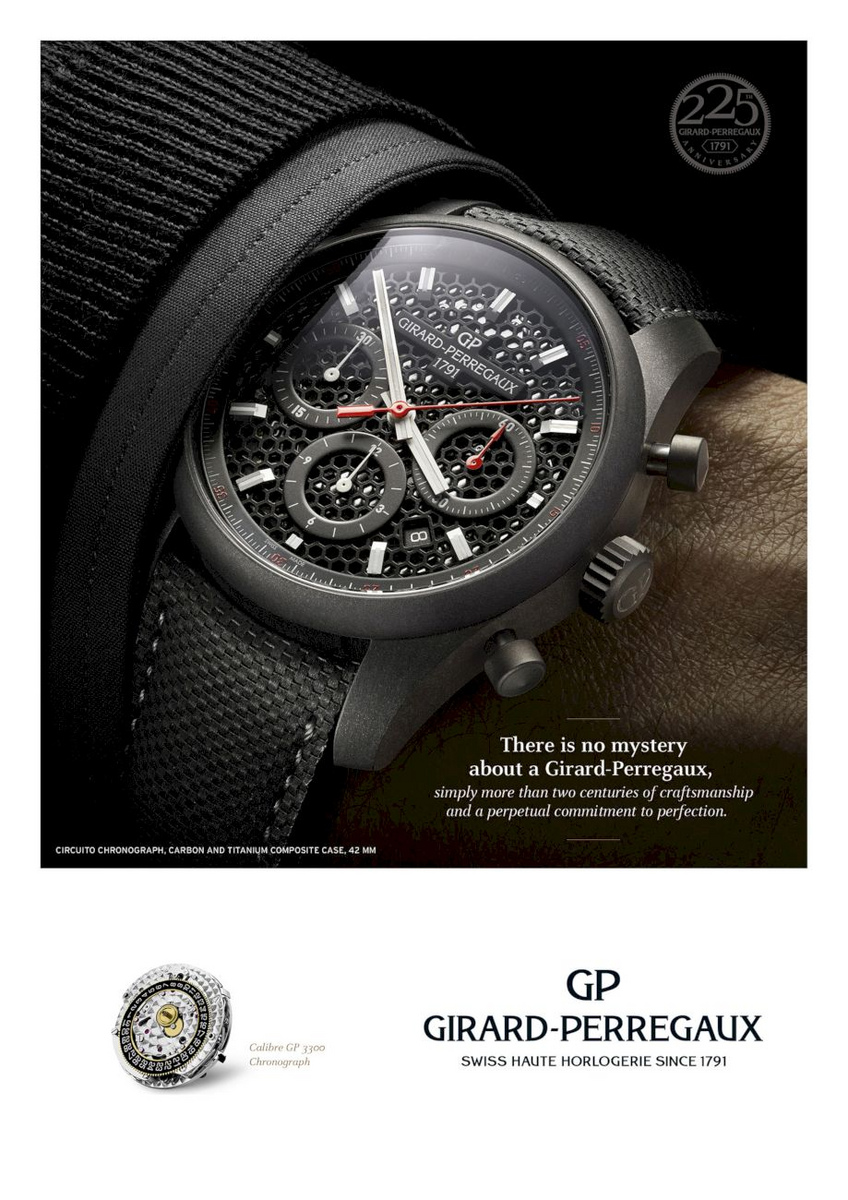 Girard-Perregaux Circuito Chronograph Carbon and Titanium composite case, 225th anniversary Ad
Our third pillar is, quite literally, the "Three Bridges" range (editor's note: aka "Bridges"), which covers three different price segments (editor's note: the Three Gold Bridges are directly connected to the Tourbillon Girard-Perregaux assembled on three gold bridges). For example, we have produced an anniversary piece (editor's note: Place Girardet) in 225 pieces. Each piece in the collection is dedicated to a year between 1791, when the Manufacture was founded, and 2016. Inscribed on a golden plate, the date is connected to the movement and is visible from the dial, next to a slogan that highlights either a historical fact or a fact from the Manufacture's history that happened that year. It's a beautiful tribute to the 225 years of the Manufacture. The fourth pillar is the Sport Competizione range which includes the Stradale and the Circuito. It is dedicated to the chronographs from the 1990s that made Girard-Perregaux successful. The 42-mm watches, equipped with the in-house GP03300 movement, were inspired by cars. The fifth pillar and satellite pieces illustrate the brand's legacy and underline its historical ranges and their impact. Some examples are the reinterpretations of the Giromatic and the iconic Laureato, originally created in the 1970s.
AF: Is Girard-Perregaux still a flagship of haute horlogerie?
AC: Girard-Perregaux is, together with two other members, the Founder of the "Fondation de la Haute Horlogerie". We have been promoting Haute Horlogerie throughout the world with our watchmaking art since 1791. So, yes, we can definitely claim to be an haute horlogerie brand, given our history, our excellent products and our high-end finishes. In 1889, the Esmeralda – our Under Three Gold Bridges wristwatch – won the first prize at the universal exhibition in Paris for its appealing finishing and the structure of its movement. Since then, we have kept the same crafting techniques for polishing and chamfering in the sense of the purest watchmaking tradition for all our creations. We take a whole five days to make one of our Bridges because we have set high standards at our Manufacture.
Girard-Perregaux Laureato Steel's Ad
AF: What about distribution?
AC: Our clearer and more readable collection has paved the way to many opportunities.
Girard-Perregaux's presence is quite homogeneous throughout the wolrd but we have still had to reinforce the markets where we were lacking structure.
We have opened several subsidiaries in the last six months in Spain, Portugal, Germany and Austria. We have also opened one in Russia and assigned a Brand Manager for the Middle East as well as a person in charge for Europe.
It is completely useless to have the right products and strategies if we do not have people devotedto them on site. We will continue to create value with qualitative and targeted distribution. Girard-Perregaux already has its retailers and that was an enormous investment, but it's now out of the way. The real change lies in the renewed Girard-Perregaux. We have redefined the brand in every aspect, including communications.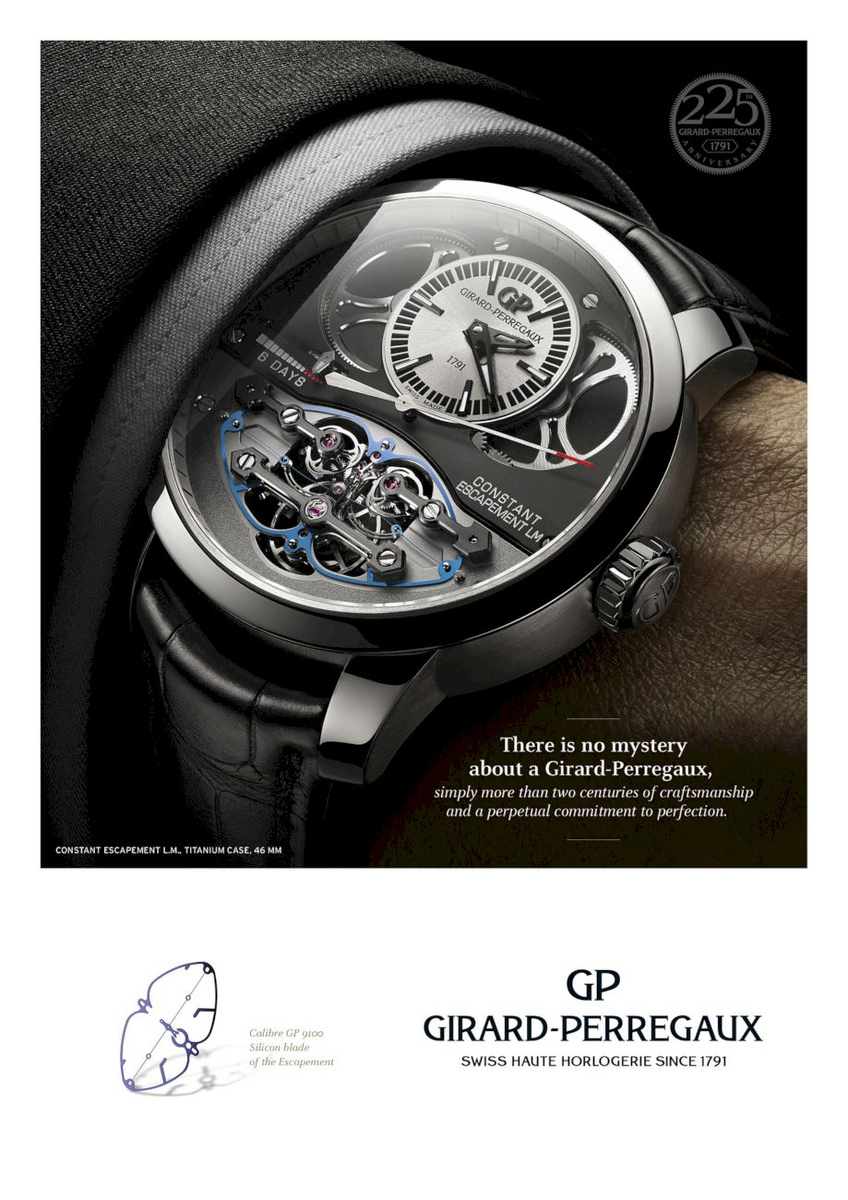 Girard-Perregaux Constant Escapement L.M. Titanium case
AF: What has changed in terms of communications?
AC: Our website was inadequate and completely obsolete and our advertisements did not convey the brand's values. At Baselworld 2016, we launched a new elegant and trendy communication campaign at a time when "wrist shots" are in vogue. This was an amazing angle to take for it reminded us of the brand's advertisements from the 1980s, when the Manufacture was already proving its creativity.
AF: Will the museum be reopened soon?
Yes. Last fall I visited François Perregaux's grave in Yokohama with some journalists. That was during a visit to Japan for our mobile museum, which gave a hint into what the museum will look like when it is finished.
Awalk around it suffices to be immediately absorbed by the brand's history and its remarkable founders – Jean-François Bautte, the genius watchmaker; Constant Girard and Marie Perregaux, the couple whose names are that of the Manufacture's; Henri and François Perregaux, the travelers, and so on. There will be a focus on each one of them in order to offer a whole view of our long history. Thanks to modern technique, our new museum will offer an initiatory and absorbing journey. It will be twice the size of the old one and it will be located in our building in La Chaux-de-Fonds.