Founded in 1791, Girard-Perregaux is one of the oldest fine watchmaking manufactures still in operation in Switzerland today. Our history is dotted with exceptional creations that bridge aesthetics and functionality to reveal the value of time. These include the iconic Laureato, born in 1975, as well as our Tourbillon 'With Three Gold Bridges' which made the invisible visible, transforming bridges from just a technical element to an integral part of the timepiece - a first in watchmaking. Girard-Perregaux's place at the vanguard of horological innovation is confirmed by over one hundred recorded patents, and the innumerable prizes and distinctions we have received. We remain one of the rare watchmakers to retain Manufacture status for over two centuries by mastering all the required horological skills in-house. Our timepieces today push the boundaries of watchmaking for modern living. Girard-Perregaux is part of the Kering Group, a world leader in luxury apparel.
1791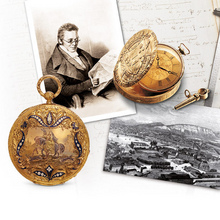 Although orphaned at a very early age, Jean-François Bautte had a determined approach to life. He learned the trades of case assembler, guilloché applier, watchmaker and goldsmith in turn, and completed his education. In 1791 he signed his first watches, aged 19.
The origins of Girard-Perregaux are associated with this date. A talented watchmaker, Jean-François Bautte found renown for his extra-thin watch models, and set up a manufacturing company in Geneva with the then innovative feature of housing under its roof all the watchmaking trades of the time. With infinite simplicity, he received the most prestigious visitors, including the future Queen Victoria.
An astute industrialist and businessman with a brilliant character, he traded with all the European courts, which made him one of the most famous watchmakers of the period.
1837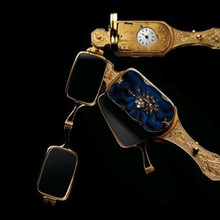 Jacques Bautte and Jean-Samuel Rossel took over from the illustrious Jean-François Bautte, who had left them an exceedingly high quality industrial and cultural heritage.
Later, Rossel continued his work alone, soon to be assisted by his son. Their remarkable work in the field of chronometry was regularly rewarded in international exhibitions.
1852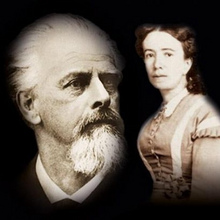 In 1852, Constant Girard founded the Girard & Cie firm.
Two years later, he married Marie Perregaux, and in 1856 the union of their surnames gave rise to the Girard-Perregaux Manufacture in La Chaux-de-Fonds.
1867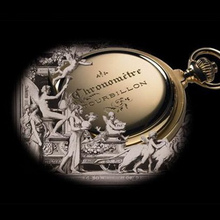 It took just a few years to establish the renown of Girard-Perregaux, which extended to the New World.
In 1867, Constant Girard-Perregaux presented a Tourbillon which was a prizewinner at the Paris Universal Exhibition.
In 1889, his masterpiece, the famous Tourbillon with three gold bridges, the result of many years of development, was honoured by a gold medal at the Exposition Paris Universal Exhibition.
Thereafter, Girard-Perregaux's domination in international exhibitions was such that this model was declared out of competition from 1900.
1880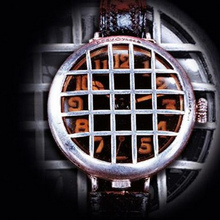 The visionary Constant Girard developed a wristwatch concept aimed at German naval officers, which were ordered by the German Kaiser Wilhelm I. Two thousand watches would be made.
This production represented the first major market sale of wristwatches. But this idea, revolutionary in the time of the pocket watch, was not to be followed up. Indeed, it would not be until the beginning of the following century that the wristwatch would find its familiar popular success.
1903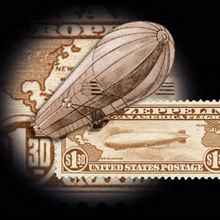 Constant Girard-Gallet took over control of the Manufacture from his father. In 1905, Girard-Perregaux was appointed a permanent jury member of the most popular international watch exhibitions in recognition for its constant quest for precision.
In 1906, it took over the famous old Bautte firm, merging it with Girard-Perregaux & Cie. At the dawn of the 20th Century, Count Ferdinand von Zeppelin measured his aeronautic tests using a Girard-Perregaux timekeeper.
1928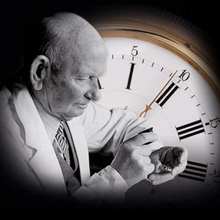 Otto Graef, a watchmaker of German origins and owner of the MIMO Brand (Manufacture Internationale de Montres Or) bought up the capital stock of Girard-Perregaux.
In 1930, sales of wristwatches exceeded those of pocket watches for the first time, nearly fifty years after Constant Girard had anticipated this application of time.
1940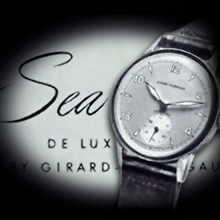 The Girard-Perregaux Brand pursued its development both in Europe and the Americas, especially with the SEA HAWK water resistant model, while the MIMO Brand was primarily distributed in European markets.
1945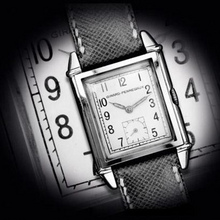 1945 saw the creation of a rectangular Art Deco inspired model, which would be revived fifty years later and dubbed VINTAGE 1945.
1966
In the late 1960s, Girard-Perregaux was one of the few Manufactures to have an in-house R&D team. This research department would enable the Brand to develop several revolutionary movements.
In 1966, Girard-Perregaux introduced within its Gyromatic family the first high frequency movement (36,000 vibrations/hour). Watches equipped with this movement naturally achieved excellent rate performance. So much so that in 1967, 70% of chronometer certificates issued by the Neuchatel Observatory were awarded to Girard-Perregaux High Frequency Chronometers.
1970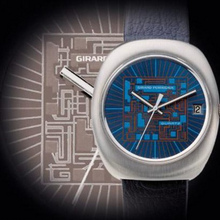 In this period the Manufacture was also leaning towards the field of quartz movements, launching Switzerland's first industrial production of quartz wristwatches in 1970.
The frequency of 32,768 Hz set by Girard-Perregaux has remained the universal standard for quartz watches.
1975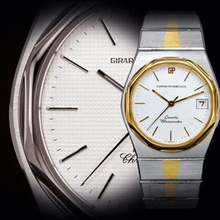 The Brand presented a sporty model equipped with an octagonal polished bezel and an integrated satin strap, bearing the name Laureato.
1981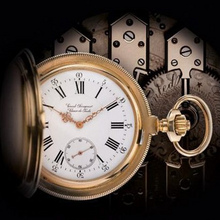 With the rise of quartz, the Swiss watchmaking industry was deep in crisis.
Girard-Perregaux was one of the first prestigious watch companies to take up the challenge of a return to traditional mechanical timepieces.
Girard-Perregaux's master-watchmakers undertook the remaking of twenty pieces of the famous Tourbillon with three gold Bridges pocket watch.
1991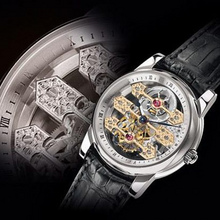 To celebrate its bicentenary, the Manufacture pulled off the feat of presenting a version of the ultra-famous Tourbillon with three gold Bridges pocket watch, miniaturised to wristwatch size.
1992
The Italian entrepreneur, architect and former racing car driver Luigi Macaluso took over the reins of Girard-Perregaux.
1993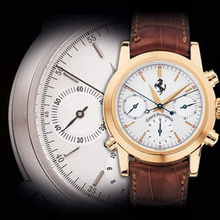 With Luigi Macaluso at the wheel, Girard-Perregaux signed a "co-branding" agreement with FERRARI, creating for the occasion a limited edition split-seconds chronograph, stamped with the legendary "prancing horse".
Between 1994 and 2004, this partnership gave rise to a remarkable collection of sporty and grande complication models.
1994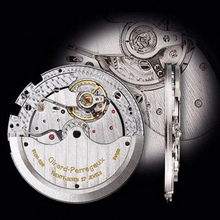 At a period when many Swiss watchmaking companies procured finished movements or ebauches from external suppliers, Girard-Perregaux undertook a massive effort to develop its manufacturing aspect, and in 1994 introduced a new family of ultra-thin calibres named GP3000 and GP3100
1999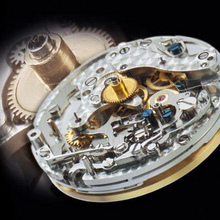 For its entry to SIHH (Salon International de la Haute Horlogerie), Girard-Perregaux presented an automatic winding version of its famous Tourbillon with three gold Bridges, thanks to the introduction of an ingenious platinum micro-rotor system (patented in 1999) positioned under the barrel.
The Manufacture developed a new column-wheel chronograph movement 23.3 mm in diameter.
2001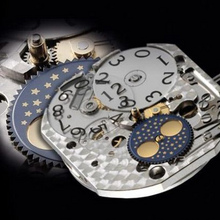 Girard-Perregaux introduced a movement offering a new date display system, via a large window, and a moon phase indicator.
The same year, true to its great chronograph tradition, the Manufacture presented a generously proportioned model combining the chronograph and world times indicator functions, with the ww.tc watch (World Wide Time Control).
2003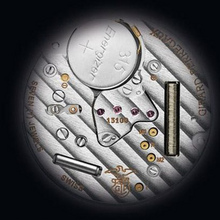 Renewing its key role in the history of the quartz watch, Girard-Perregaux presented a new family of movements employing this technology.
2004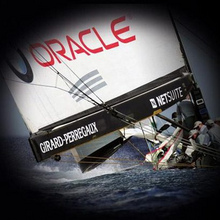 True to its manufacture approach, with the Cat's Eye concept Girard-Perregaux presented a new line of ladies' watches equipped with petite complication mechanical movements.
The Brand joined forces with Team BMW Oracle Racing in the 32nd Americas Cup, which lasted until 2007. This partnership gave rise to limited edition watch collections.
In December, it opened its first boutique in Gstaad.
2006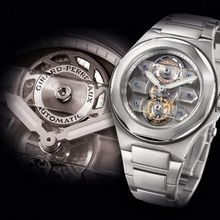 In the 2006 Salon International de la Haute Horlogerie, Girard-Perregaux enhanced its portfolio of automatic winding mechanical movements with the calibre GP 2700 (8 ¾ lines) and the calibre GP 4500 (13 ¼ lines).
With the Laureato Evo3 Tourbillon with three sapphire Bridges model, the Brand presented a technical and innovative version of its famous Tourbillon.
2007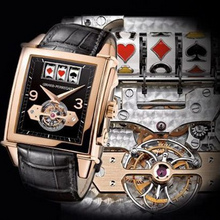 The new ww.tc – Financial chronograph, indicating both world times and the opening times of the four main financial centres, was exceedingly well received.
In the field of Haute Horlogerie, the Vintage 1945 Jackpot Tourbillon, combining a Tourbillon and a slot machine equipped with a chime mechanism, was also a big hit.
Girard-Perregaux opened its first boutiques in China, in Beijng and then Shanghai.
2013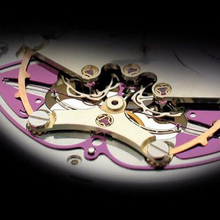 Girard-Perregaux unveils a noteworthy innovation in the world of Haute Horlogerie: a constant-force escapement, the Constant Escapement L.M. It represents a revolution on both technical and conceptual levels, as well as in the use of materials. Its operating principle is notably based on an escapement spring incorporating a silicon buckled blade thinner than a human hair, held by a frame also made of silicon which offers the advantage of indefinitely maintaining its suppleness and elasticity.